New, new, new. There's a lot of new things that went around this week, let's take a rundown on what happened in your alliance.
Possible ship program
Jayden Lycon ran a poll relating to the alliance's opinion on the production of blueprints and instructions for both S/V Niantic and C/F Nicholas Randouler. These documents would allow Cupertino Alliance members to build these ships at home. Both ships were built in 2019 and 2020 respectively for the Aenderian Coast Guard. Both ships have been carrying their duties of naval patrol since their building in both the Canadian Aenderian territories and in the nearby Iustus town of Canso-Frontenac.
The poll received an overwhelming 12 – 1 positive result, with various others, like Aenopia, interested in contributing to these documents. The matter was discussed in Parliament during the 83rd session, where Lycon gave a statement:
This proposed project can help micronational navies be more "realistic" in a way [which] doesn't include spending thousands on a boat. This project can also boost cooperation between other micronations, increase the identity of one's nation, and will spur innovation and development in participants. The documents are planned to include a list of materials on how to build it, a basic orthographic projection, and instructions.

Jayden Lycon
As these ships are considered the personal possession of Jayden Lycon, it wouldn't be affected under the planned creation of the State of North Aenderia.
Possible web host program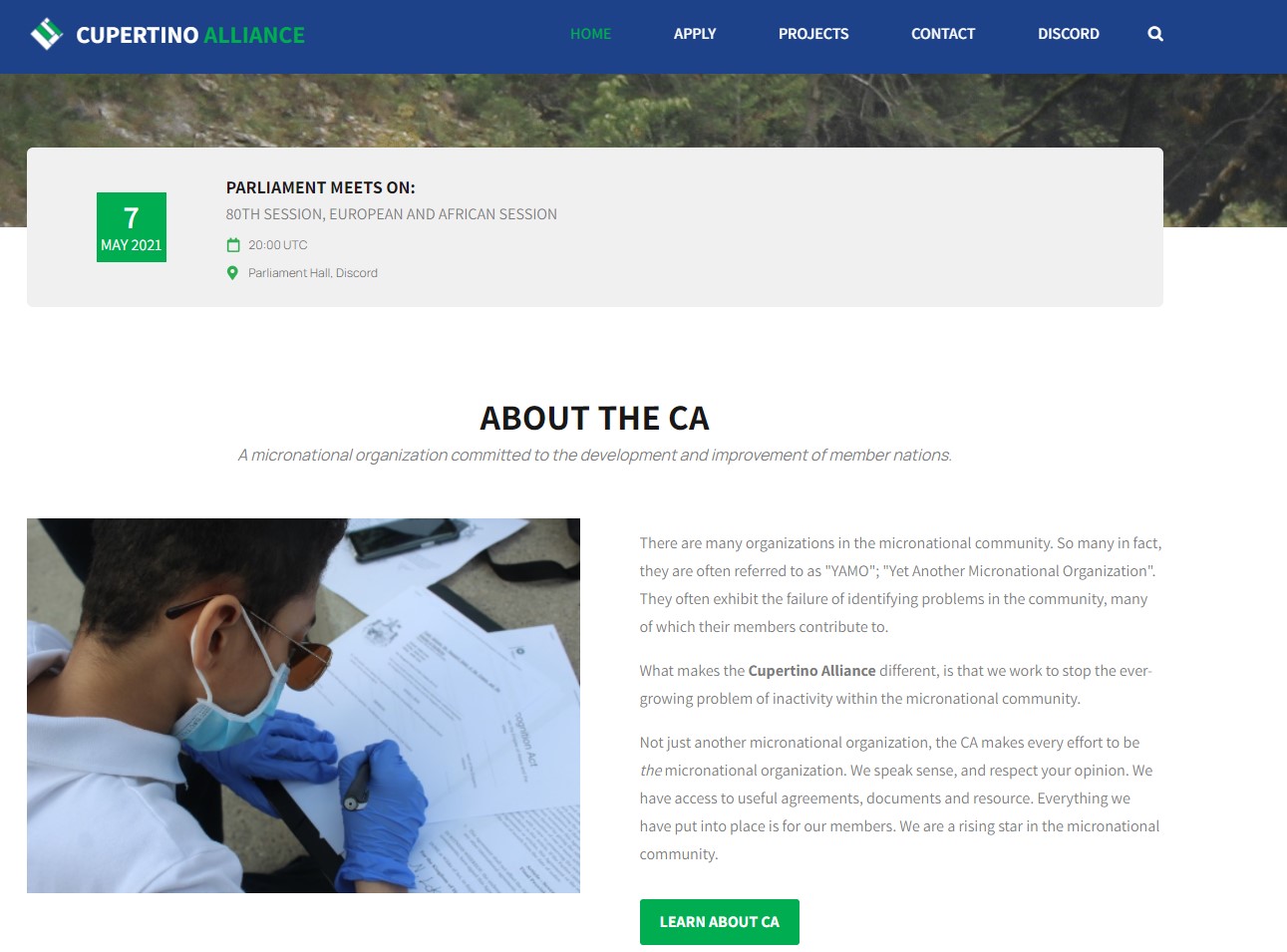 In our last article, we mentioned the creation of our new site. We also mentioned that our site got taken down by a false positive from our webhost. The government, after discussing this affair with the Minister of Technology, has plans to buy a premium web host. This plan will allow the government to open 100 subdomain accounts, 100 email accounts, and FTP accounts under the cupertinoalliance.ca domain.
Members of the Cupertino Alliance will be able to transfer their website to the host, then the alliance will open up a subdomain for them. For example, if someone has the website of "example2319.wordpress.xyz", it can be shorted to "example.cupertinoalliance.ca". This will have the benefit of it being much more professional, as well as being more secure and faster than a free web host. Participants can also receive an email ending in @cupertinoalliance.ca.
This endeavor is planned to be partly funded through crowdfunding- though a majority of the costs will be handled by Jayden Lycon. Various delegates have already expressed interest in contributing.
New deputy minister
On 9 May 2021, the Minister of American Affairs, Thorin Neal (Qaflana's 1st), has announced his choosing of Liam Alexander (Australis' 2nd) as deputy minister. This comes after calls by the American minister to appoint a deputy, citing past incidents where the minister was away for personal affairs.
New Cupertino Guides chapter
Work has started on the renovation and expansion of the first chapter of the Cupertino Guide. This comes after the completion of the second chapter on 30 April. This chapter will include instructions on how to start a micronation, as well as document templates.
After a private discussion between editor-in-chief Jayden Lycon and Molossian leader Kevin Baugh for his insight on non-MicroWiki community advice, work finished on the territorial, justification, and declaration of independence pages.
The Chair, Logan Ross, has also expressed interest in expanding the Cupertino Guide to cover environmental topics.
Work on Chapter 1 is expected to continue during the month of May.