It seems like yesterday when we were celebrating the New Year's. Winter went, March Break flew by and now it's June. Time flies- but that doesn't keep the alliance from innovating! Let's take a dive at what the Ross government has been doing!
Montan, James, participate in GreenCities subsidy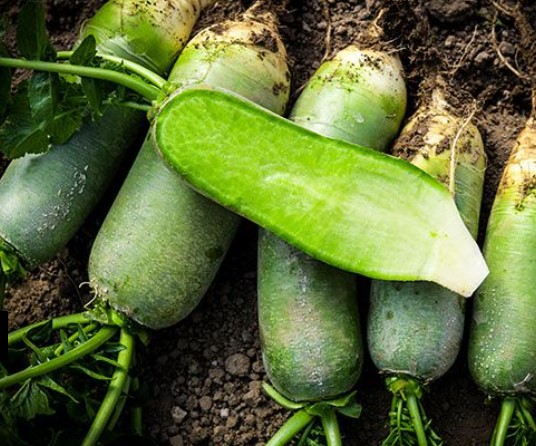 James B (Desert District) and Leon Montan (Ponderosa Hills) both participated in the GreenCities subsidy. The program, started by the Lycon government, allows member nations to attain seeds fully paid for by Cupertino Alliance. It's aimed to promote planting for the upcoming summer season (in the Northern Hemisphere).
James bought the Chinese Shawo Fruit Radish seeds whilst Montan bought some teff seeds- native to Ethiopia. Both delegates were satisfied with their purchases, giving statements:
I am really impressed with the Ross administration's work towards advancing multiple projects to make the alliance stand out as an active alliance that doesn't use a one size fits all system for it members, but rather has projects to cater for all members across the world. Desert District is known for it vast wildlife and nature, so the Greencities Project is a really great thing to help display the ways in which nature and gardening influence our culture.

James B
The GreenCities project will benefit Ponderosa Hills greatly. Due to the project providing our government with seeds of the plant known as teff, Ponderosa Hills has now started a project to make Ponderosa Hills a self-sufficient nation to the highest extent possible- this would not have been able to happen.

Leon Montan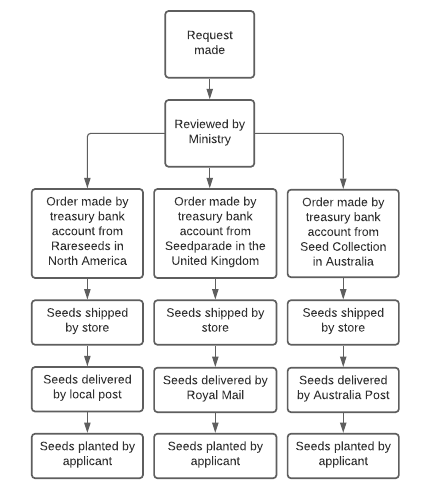 The system works like this:
Seeds are requested by a member of Parliament from an approved store
It is processed and bought by the treasury
Seeds are received by the member of Parliament and are planted
Delegates are mandated under a certain budget and are required to take photos of the plants to show that they planted the seeds. However, after the plant has fully been grown, the delegate is free to do whatever they want with the plant.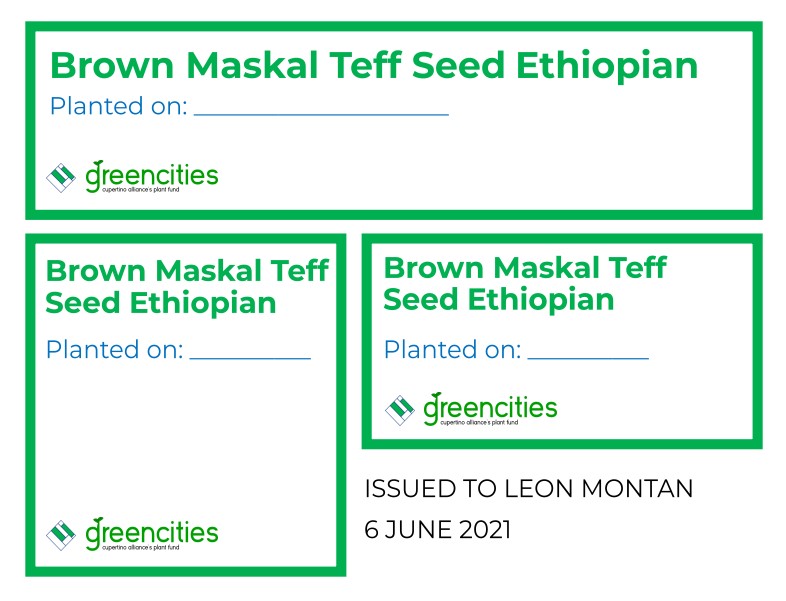 Participants can also receive printable signs from the program to show participation to the program. The expansion of the GreenCities program was an important priority within the Ross manifesto (as apart of its environmental promise), but no big changes have been done by the Ross government.
Website backup; domain program testing ongoing
Back in our last article, we mentioned the shutdown of our website due to a false positive. Thanks to donations from Tyler Mullins (New Athens), James B (Desert District), and Jayden Lycon (Qaflana), the website is backup.
Additionally, the new host allows the government to operate up to 100 subdomains and emails, which are planned to be converted to a program. This program will allow interested member nations to move their website to a faster webhost, using a more professional "cupertinoalliance.ca" subdomain. WordPress can also be installed in individual subdomains. Member nations are also able to receive an email ending in "@cupertinoalliance.ca".
Testing for the subdomain project has started, with the government using one of its subdomains for the charts project. The Cupertino Alliance email has also moved to [email protected]. Both tests have been successful and the project is planned to be opened up to participants this summer.
Furthermore, the Minister of Technology, Michael Shepard (Atiera), has endeavored on a website template for member nations for their government. This will be based on WordPress, which will allow users who are not familiar with website development to edit their site easily.
A restart of the North Lincolnshire program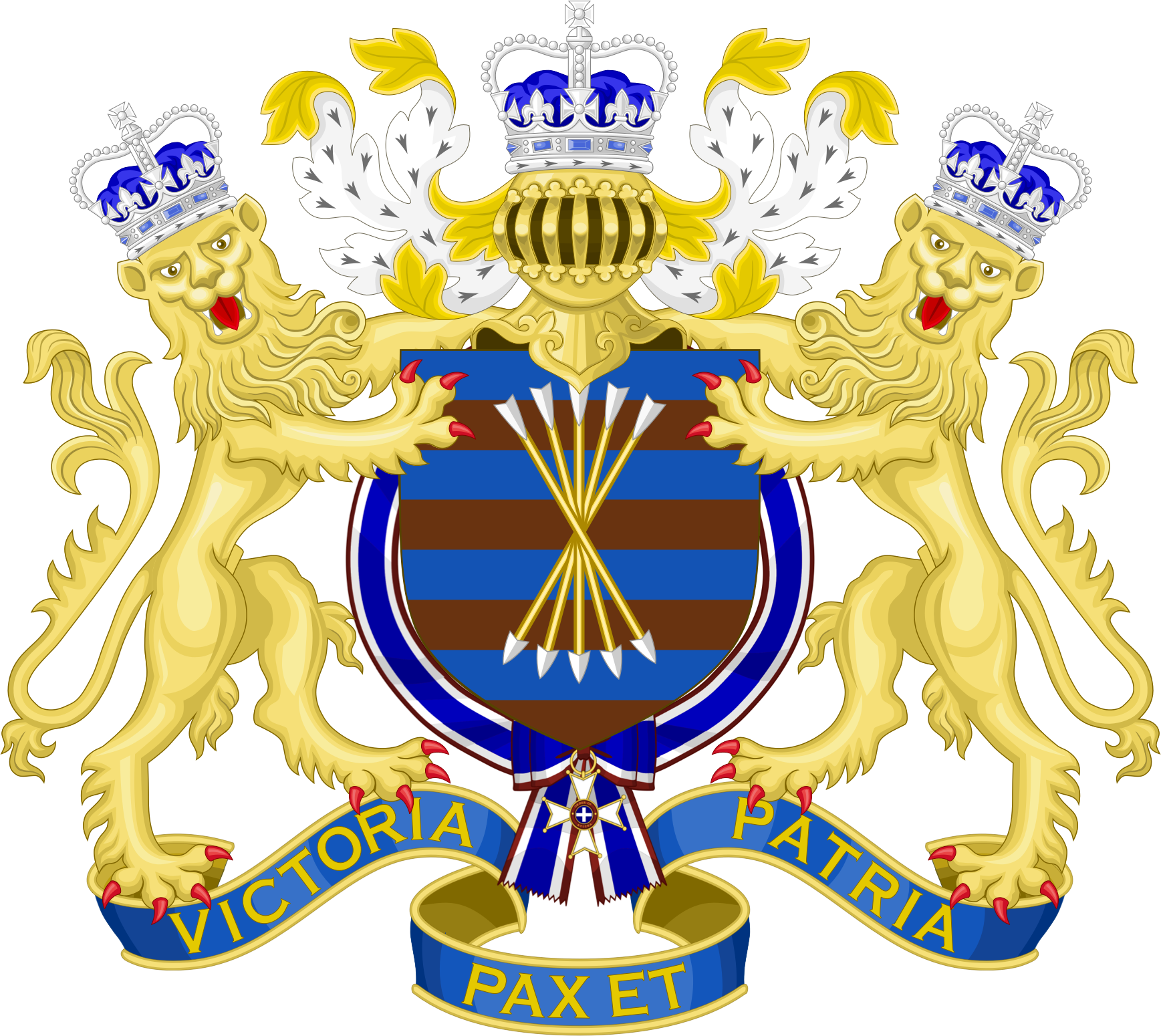 The North Lincolnshire program was restarted and expanded upon its 2020 counterpart. The program covers several areas:
The creation of coats of arms / emblems / flags / currencies / etc by volunteering designers
Blazons of coats of arms or descriptions of emblems
To provide a database of coat of arms and other design nominations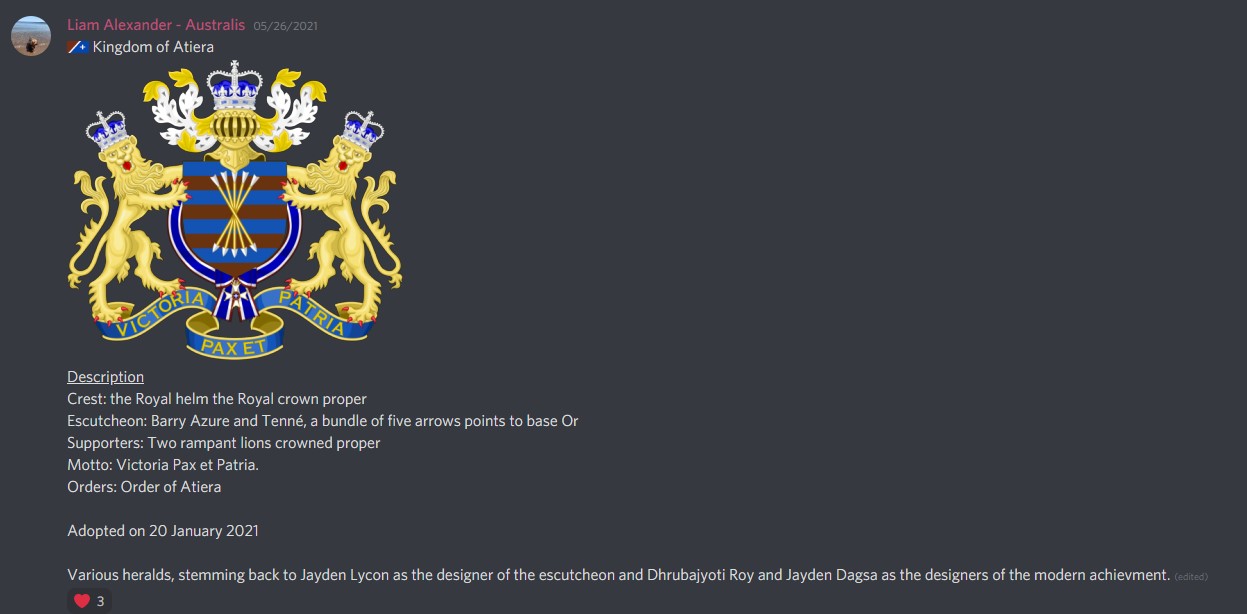 The North Lincolnshire program started back in summer 2020 by the Lycon government and designed a couple coats of arms including Pinelandia's and Ateria's. The program went inactive due to lack of interest, until it was revived by the Ross government.
The project is spearheaded by Dhrubajyoti Roy (Vishwamitra), Jayden Dagsa (Novus Hierosolymis), and Daniel Hamilton (Australis).
Discord Nitro giveaway announced for 500th day anniversary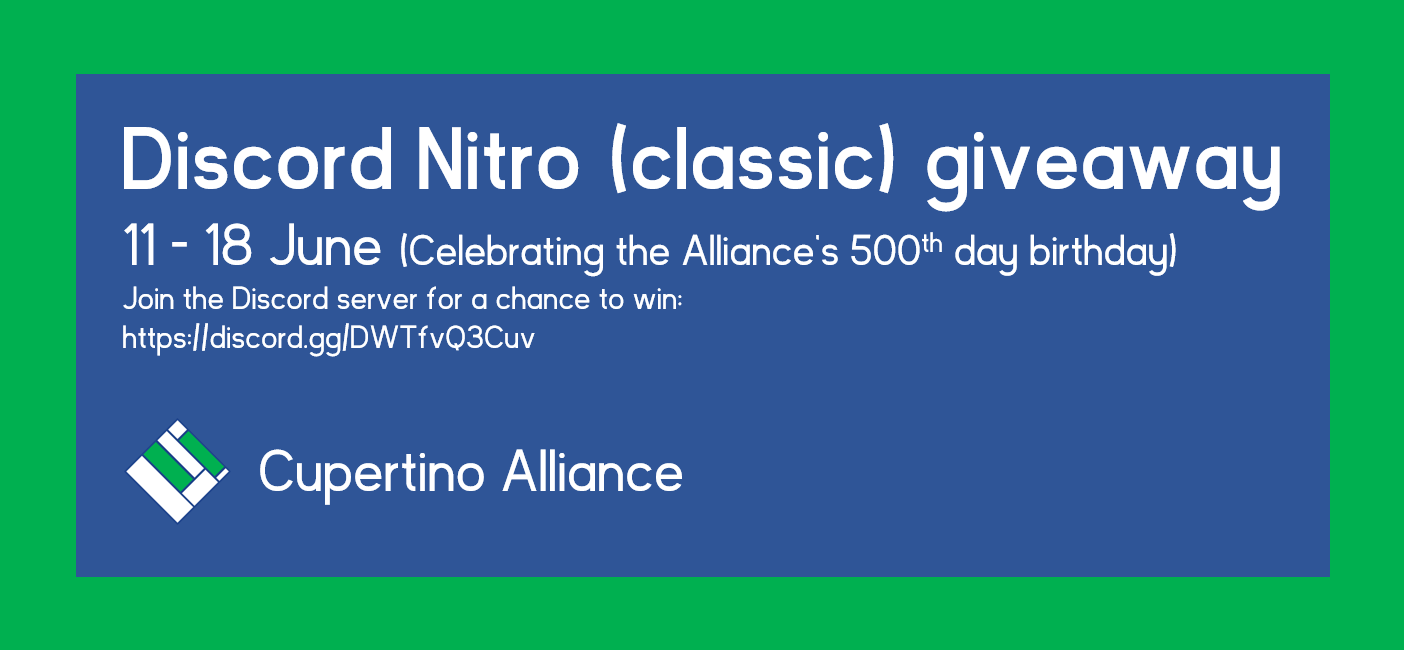 Back 500 days ago, it was a chilly January day. The 28th exact, but it was one special day- the rebirth of our alliance. 500 days later, and the alliance evolved to one of micronational's most productive and greatest organizations, with it having a stackload of achievements combined with a healthy and supportive community.
That's why we are giving back- to you, the community. It is the community who ultimately helped us pull this amazing feat through. Join the CA Discord server and react to the message in the giveaways channel for a chance to win a month of Discord Nitro classic. This gift will be supplied by James B (Desert District).
Thank you for your support, and let's make it through another 500 days! Compared to January 2020 however, right now it seems quite humid… you know what that means? A cleanup!
Cupertino Alliance-GUM cleanup starts
The Cupertino Alliance partnered with the Grand Unified Micronational for a cleanup starting at Saturday to Sunday. This event is a starting point for relations between both alliances- both were a key point in Jack Dean's and Logan Ross' manifestos back in days past. This also hits the other stone of environmental involvement, which was another promise by the duo.
The cleanup involves CA/GUM/Sough2020 signatories' citizens to clean up their local area. This may include their parks, public areas, or homes, regardless if a micronation claims such area. Parties mandate the obedience of COVID-19 guidelines, including social distancing, facemasks, and hand sanitizer.
A similar event was planned a year ago, however the Grand Unified Micronational declined to participate. Relations between the GUM have improved through- with the CA Government opening the Southampton Commission and starting the Standing Committee for Bilateral Cooperation to Organizations Abroad.
Relations, however, were tainted during spring 2021 following the expulsion of GUM Vice-Chair Brooke Kennedy in the CA due to repeated decorum violations in formal channels. The Ross and Dean governments hope that this event would lead to further cooperation in the near future.
Now, while you're out cleaning, you would probably want to listen to some jams. Hence why, we started the charts project!
Charts project started
The Charts project released it's first Hot 40 on Spotify at the end of May. The project, governed by Lawrence Martin (Waterside Park), uses last.fm. The project has been popular by delegates, with several delegates competing to topple songs within the Hot 40. Furthermore, a website has been setup at https://charts.cupertinoalliance.ca/, with several member nations creating their own featured playlists.
Get your Cupertino merch!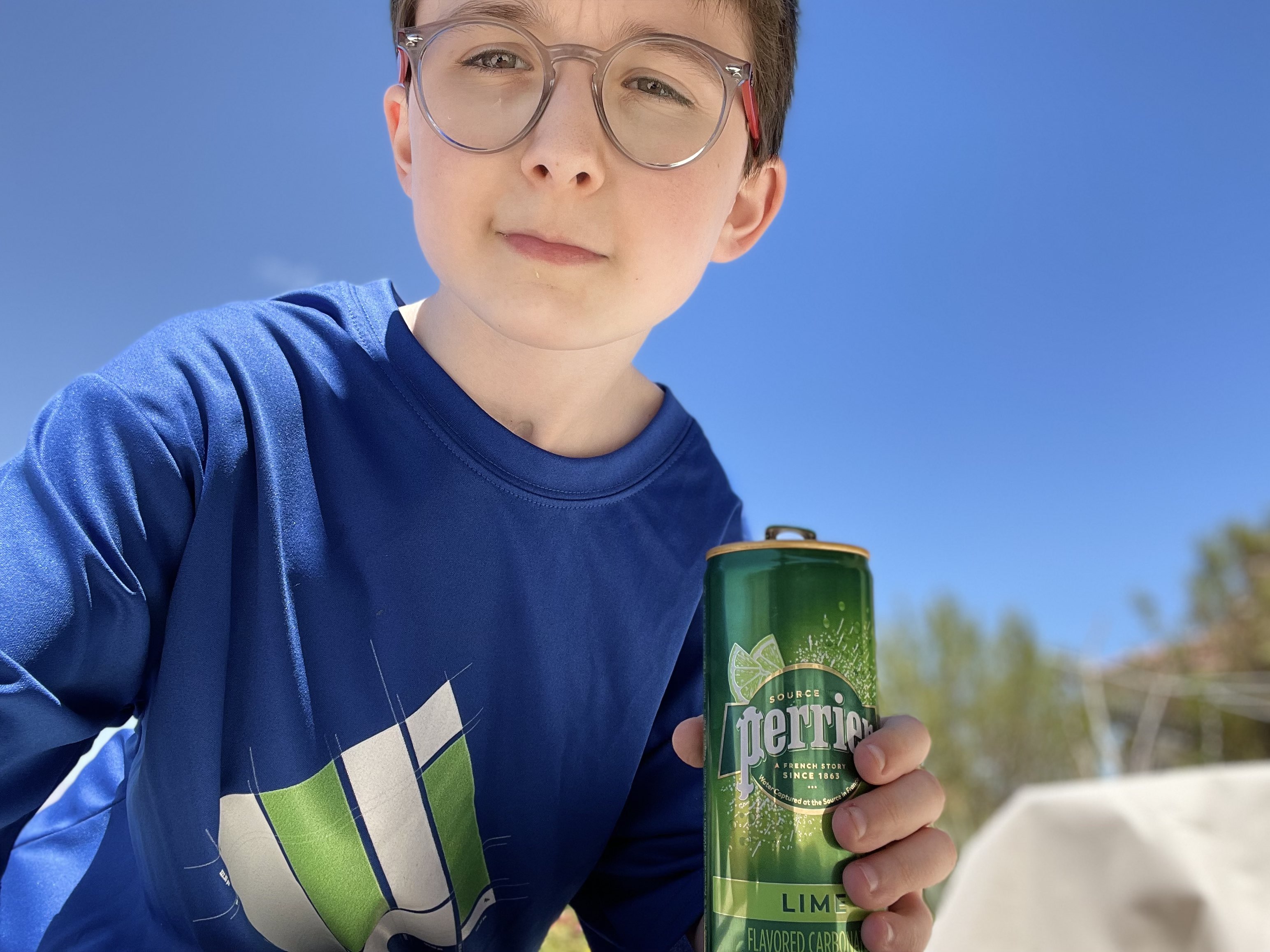 In a response to public demand, Jayden Lycon (creator of the Cupertino Alliance and most of its branding) announced the release of Cupertino Alliance merch.
The merch, also designed by Lycon, deviates from the usual "slap your logo on a shirt" and instead features exclusive designs. The first few designs include a curvy version of the Cupertino Alliance logo, the Cupertino Alliance logo being deconstructed with measurements, as well as a collage of common statements said during Parliament. The latter makes fun of the occasional uber-formalness language used by members of Parliament.
Of course, the plain Cupertino Alliance logo is for sale for whoever wishes to purchase it.
Lycon receives a small margin of the earnings, which can be used for several projects like the GreenCities subsidy.
James B (Desert District) fell in love with the deconstructed design, and bought a shirt and sticker. Giving a statement:
The quality of the Cupertino Alliance merchandise I have purchased is truly fantastic, and encourage delegates to pitch in and buy merchandise if they are able to. It can be a small thing like a sticker, or a big acrylic display of our logo. It is an easy, rewarding, and effective way to help fund our alliance.

James B
Come view the whole collection here! Keep your eyes peeled for more designs in the future!
Applications for the second phase of the Noted tour opened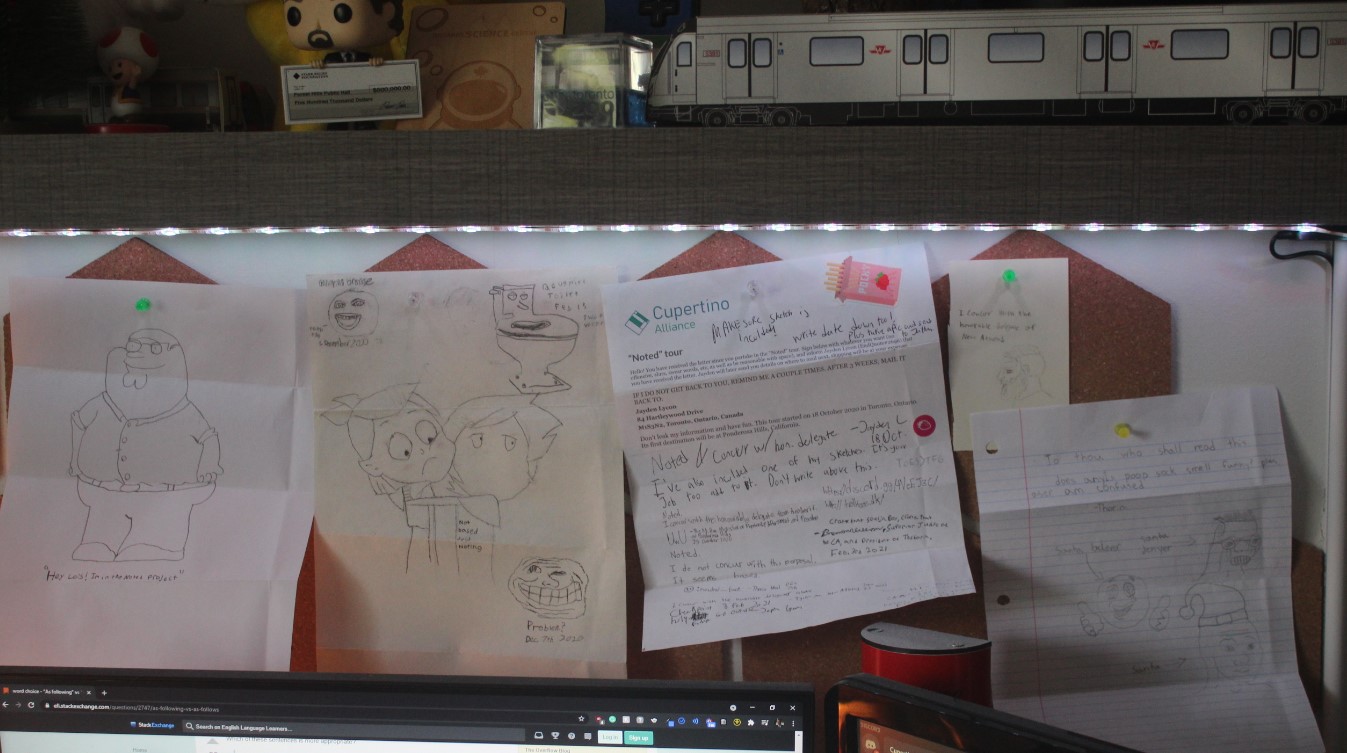 The Chair announced the opening of applications for delegates interested in participating in the next Noted tour. This tour turns over a new leaf compared to the previous tour, with it starting elsewhere and using a different selection of papers.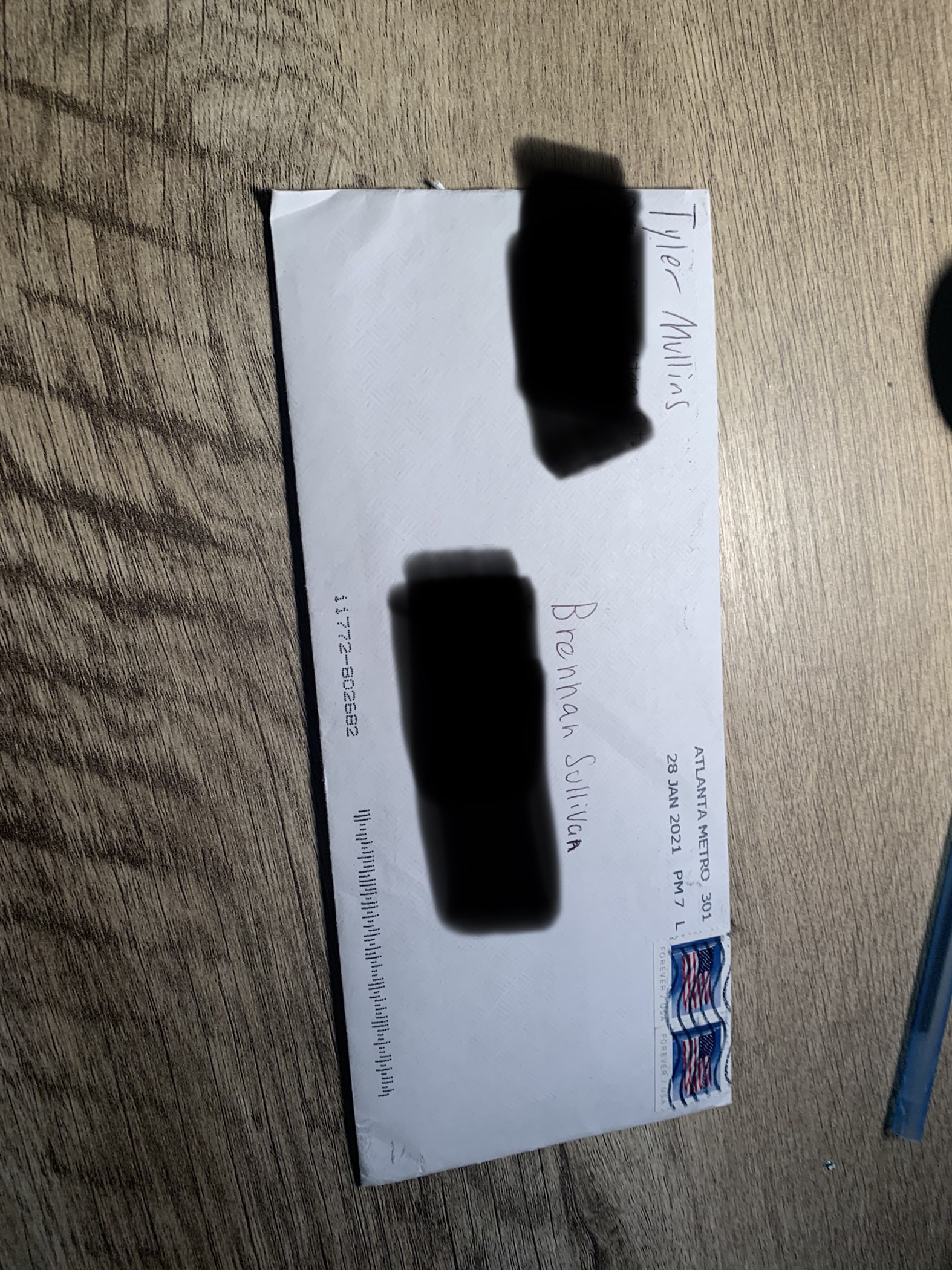 The previous Noted tour ran from 18 October 2020 to 5 February 2021, travelling through the continental United States and Canada. The Noted tour was a project by Jayden Lycon to celebrate his retirement as Chair. In preparation for the tour, a "blue" guide was published (not to be confused with the Cupertino Guide), instructing delegates on what to do and how to send it.
The results of the tour is viewable here.
Issue 12 of the Gazette published
The 12th issue of the Gazette was published. The Gazette was reformed by the Ross government to provide an insight to parliamentary affairs. The gazette, written by Anthony I (Saspearian), provides attendance of delegates who attended, and what they discussed during their sessions.
The 12th issue covers the 81st to the 91st sessions. Go check it out here!
Planning for the 100th session
The 100th session of Parliament is coming up and the Ross government is planning to do an digital summit. The Ross government has been discussing with Parliament within late-May / early-June on platforms to host the digital summit. Platforms considered are Zoom, Discord, and Google Meets.
Lycon's back in government
Through executive proclamation, Lycon was appointed Minister of Agreements and Development on 30 May 2021. Lycon replaces Konstantínos H. (Nova Tromsø), who was panned by delegates for his inactivity. Lycon, a co-founder of the alliance, formerly served as Chair of the Board between 15 February 2020 to 15 February 2021 where he molded the alliance to its current self.
Taking a vacation from micronationalism after his retirement as Chair, he still hanged around within the alliance, brainstorming and executing project ideas. Lycon was later recommended by several of his delegates for his contributions within the Ross government.
Twin Towns Group D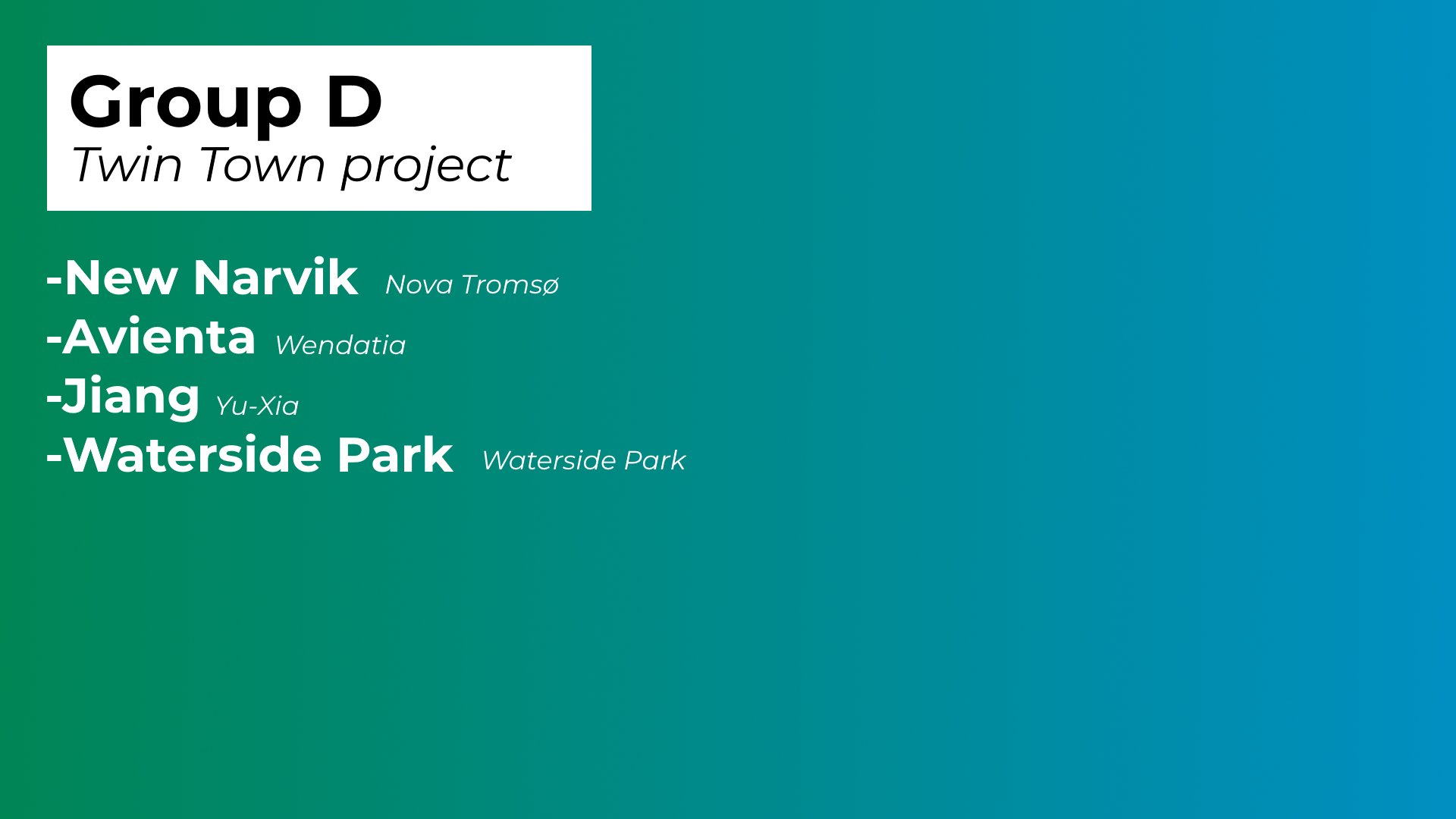 The "D" group of the Twin Town project was announced by Chair Logan Ross, It includes:
New Narvik, Nova Tromsø
Avienta, Wendatia
Jiang, Yu-Xia
Waterside Park, Waterside Park
The Twin Town project is an initiative announced by Chair Logan Ross to connect member nations' settlements to towns in other nations. So far, the project has expanded from its initial three groups to four, with more planned in the future.
Positivity survey starts
The June edition of the positivity survey was started, managed by Lieutenant Chair Matthew Xia. The survey allows participants to rate member nations from unfavorable to favorable. The survey, started by Logan Ross in September, and takes place every 3 months. The 3rd edition can be filled out here.
The results of the September and December surveys can be seen here:
A problem emerged with vote stacking, however the Government is taking steps to combat this, including issuing penalties for infractions.
Other projects / timeline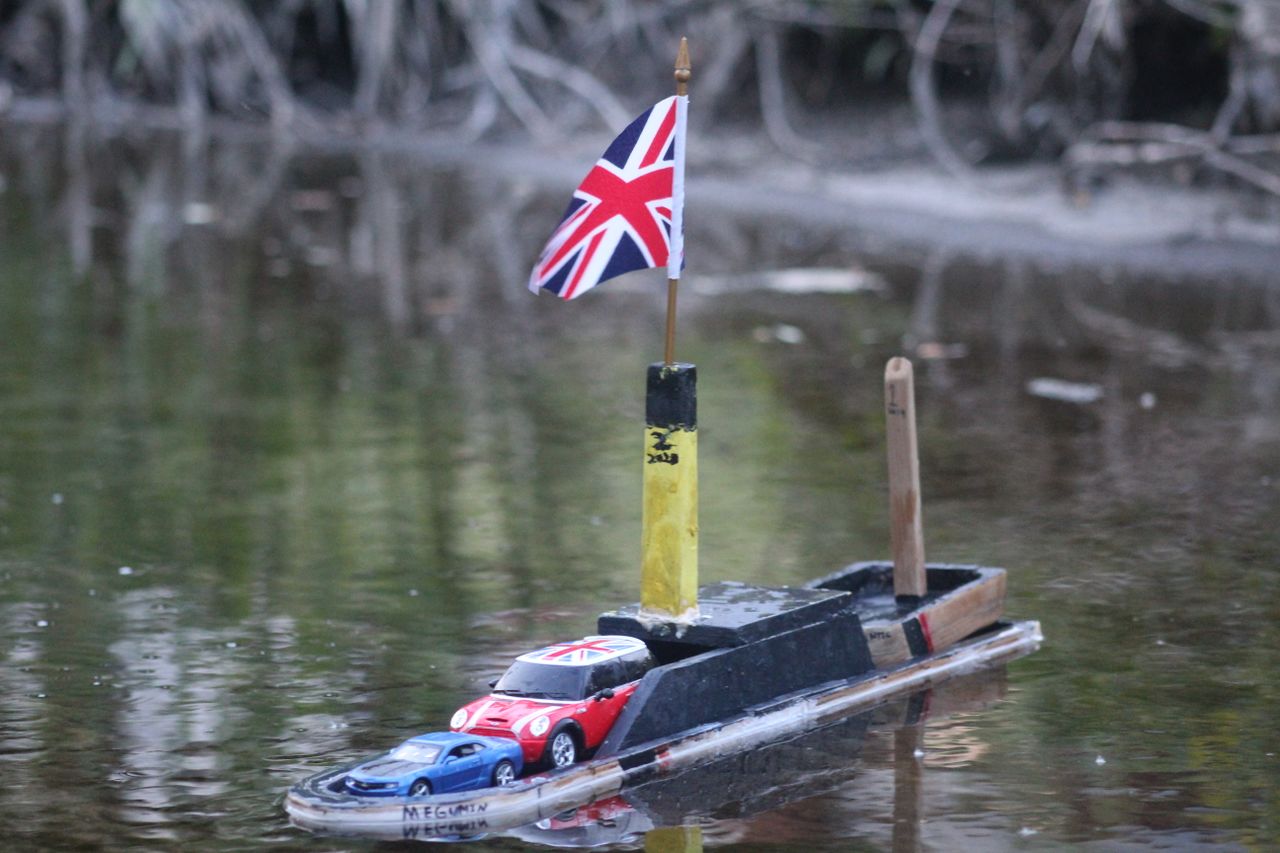 As we alluded to last post, we noted that a possible ship program could be coming to this alliance. This program will allow member nations to access exclusive blueprints for ships including C/F Nicholas Randouler and S/V Niantic, as well as contribute their own blueprints. Though this program is still in its planning phase, we are hopeful for a blueprint for one of the ships to be produced during this summer.
The third edition of the Capstone Tribune is planned for next week. The Capstone Tribune is a collection of news articles in a newspaper-style format, allowing for an easier and more professional reading experience, as well as increased viewership for your articles.
The Glasgow Project, a project to rate MicroWiki photos, is in the process of revival by Minister Leon Montan (Ponderosa Hills).
The second edition of the Cupertino Alliance Census / Factbook is being planned for this summer. A deviation of the Factbook, focusing on flags instead, is also planned.
A review to the parliamentary practice code, "Guide to announcing, hosting, and managing sessions (first edition)", which is largely responsible for the success of the regional session system, is planned. This will incorporate any new elements or removing any redundant paragraphs, ensuring that the code is up to date.
New election graphics are still in the research phase. We hope to incorporate some 3d animation to it, however it is quite a big endeavor which will take some time to finish. Thank you for your patience. However, our current election graphic set, Nintendo 64, is still available for all members to use freely- and will continue to be even after the new election graphics have been released.
And thats it, folks!
We hope you enjoyed this rather long blog post. Any questions or inquiries can be directed to the author, Jayden Lycon, who is reachable at Discord with the username EndQuote#2696. To join the Alliance's Discord server, click here. To apply, click here. Our site is reachable at https://cupertinoalliance.ca/.
Nacre is apart of the Cupertino Alliance. The Cupertino Alliance is a micronational organization like no other. Unlike a majority of micronational alliances, we pledged to be useful to our member states, and we delivered. Our projects include the Cupertino Alliance Factbook / Census, our electorial graphics, the GreenCities plant subsidy, the North Lincolnshire design studio, and more! Furthermore, we have a friendly and supportive community to propel your micronation, as well as an accessible session system, ensuring that members of all timezones can be represented. Check out more at our site at https://cupertinoalliance.ca/!